Lithium molecular sieve
Lithium molecular sieve is a synthetic zeolite of lithium-type crystal structure, large Nitrogen adsorption capacity, highefficiency of oxygen/nitrogen separation. Below chart indicates lithium based molecular sieve((The temperature is 25℃)) It shows high N2/O2 separation under a very low pressure, which lowers the consumption of producing oxygen.The advantage of on the equilibrium adsorption capacity, It applies to various VPSA device for producing oxygen.
item

value

Classification

Chemical Auxiliary Agent

CAS No.

1318-02-1

Model Number

FEIZHOU-LiLSX

Name

Lithium molecular sieve

color

light gray

Nominal pore diameter

10 angstroms

Shape

Sphere Air Dryer Desiccant

Diameter(mm)

0.4-0.8mm

1.6-2.5mm

Bulk density

0.6g/ml

0.63g/ml

Loss on Ignition(wt%.575.C,1hr)

≤1.0

≤1.0

Crushing Strength(N)

≥5/piece

≥12/piece

Static N2 Capacity(wt%RH60%,25C)

≥22

≥22

Attrition(wt%)

≤0.2

≤0.2

Particle Ration(%)

≥95

≥97

Water content(%)

≤0.2

≤0.2

N2/O2Selectivity(a)

≥6.2

≥6.2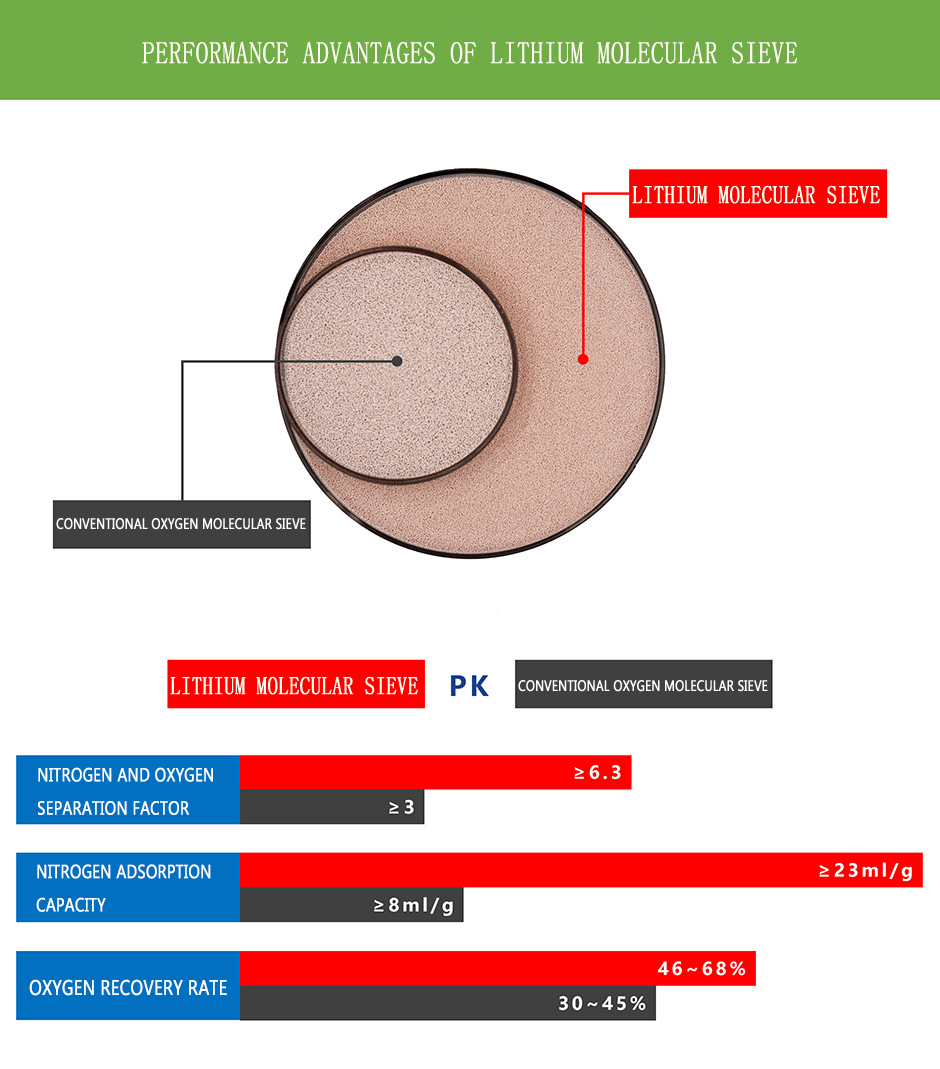 Our Services
We hope we can bring you high quality service.
Our whole staff would keep hard and innovative in work to provide qualified product and good service.
Hand & Storage Recommendation
Molecular Sieve should be handled to avoid generation of dusty conditions at the workplace. Storage in a dry warehouse is recommended. Open packages should be
resealed to prevent contamination and adsorption of water or other gases and vapors. The material in bag-in-box should be used within 12 months,while bag-in-steel
drum should be used within 24 months.
Package of lithium & Sodium molecular sieve:
25kg & 125kg / steel drum. palletized with plastic film for lithium molecular sieve
Packaging & Shipping
1. Packaging Details:25KG net woven bag with inner plastic bag. 50KG net in Cardboard Drum. and other packing.You can also choose according to your requirements
2.Delivery Detail:We always provide sea transportation and air transportation.We can also provide according to your requirements.
3.Delivery time:Because of the nature of our products,we always delivery in 21 days.
Regeneration
To achieve good operating performance and long life as much as possible, after a certain period of time use must be regenerated .After correct molecular sieve
regeneration , make it get the low attenuation of mechanical properties and adsorption
There are two basic approaches:
Temperature variation .
Generally used in the preheating gas heating, purge molecular sieve to about 200℃, and stripping down the adsorbate .
Variable pressure .
Usually used in the gas phase adsorption process.Maintain a constant temperature adsorbent and by reducing pressure and backing purge inert gas , to remove the
adsorbate.

"Note:This is normal specification, in case of a particular application, application, please contact us by email at info@fznewmaterials.com for technical information."