Auto Brake Dessicant Molecular Sieve Zeolite Molecular Sieve 4A For Auto Brake
Size:4A - Zeolite are available in beads of 1-2 mm(10x18 mesh), 2-3 mm(8x12 mesh), 2.5-5 mm(4x8 mesh) and as powder, and in pellet 1.6mm, 3.2mm.
PRODUCTS DESCRIPTION
Description:
XH-5 4A Molecular sieve for air brake system is specifically formulated for use in air actuated brake systems to dehydrate the compressed air and keep brake lines from freezing and corroding. Heavy vehicles such as trucks and buses use air to power their brakes. Air must be kept as dry as possible to avoid any freezing in the circuit but also any corrosion of the metallic parts. It has very high crush strength, abrasion resistance and water capacity allowing for long term use in air brake systems.
| | |
| --- | --- |
| Item | Index |
| Appearance | Spherical |
| Bulk density (g/ml) ≥ | 0.75 |
| Grain diameter (mm) | 1.6-2.5 |
| Static moisture-absorbing capacity (%) ≥ | 20.0 |
| Granularity (%) ≥ | 90.0 |
| Crushing strength (N/grain) ≥ | 40.0 |
| Moisture content (%) ≤ | 1.5 |
Regeneration:
FEIZHOU molecular sieve Type 4A can be regenerated by either heating in the case of thermal swing processes; or by lowering the pressure in the case of pressure swing processes.To remove moisture from a 4A molecular sieve, a temperature of 250-280°C is required. A properly regenerated molecular sieve can give moisture dew points below -60°C.The outlet concentrations on a pressure swing process will depend on the gas present, and on the conditions of the process.
Attention:
To avoid damp and pre-adsorption of organic before running, or must to be reactivated.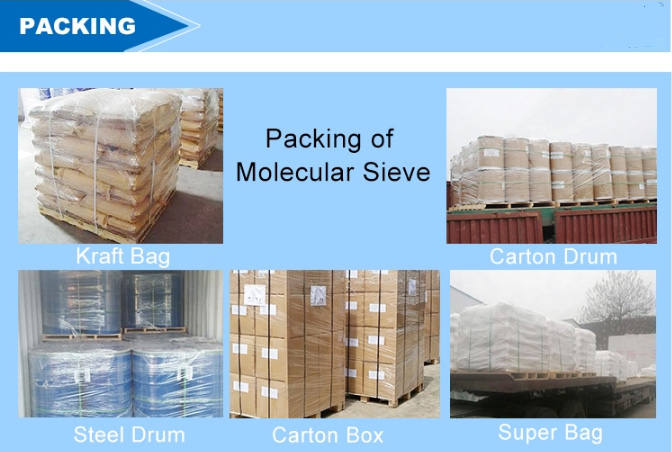 "Note:This is normal specification, in case of a particular application, application, please contact us by email at info@fznewmaterials.com for technical information."