10X Molecular sieve Description:
10X Molecular Sieve is the calcium form of the type X crystal, it has an effective pore opening of 9 angstroms (0.9 nm). 10X Molecular Sieve will adsorb molecules with a kinetic diameter of less than 9 angstroms (0.9 nm).
Chemical Formula:4/5CaO_1/5Na2O_Al2O3_(2.8±0.2) SiO2_ (6-7)H2O
Si/Al ratio:SiO2/ Al2O3≈2.6-3.0
Pore diameter: About 9A
Use: It is suitable for removal of aromatic hydrocarbon, separating iso-hydrocarbon (such as refining of paraffin, purifying liquid paraffin with gas phase absorption method) etc.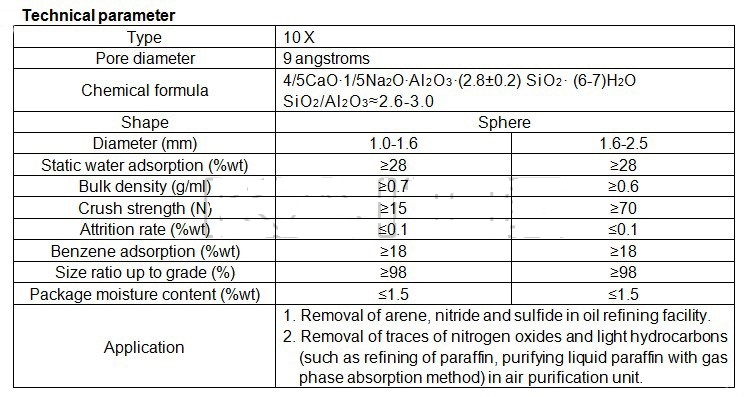 Our Services
We hope we can bring you high quality service.
Our whole staff would keep hard and innovative in work to provide qualified product and good service.
Hand & Storage Recommendation
Molecular Sieve should be handled to avoid generation of dusty conditions at the workplace. Storage in a dry warehouse is recommended. Open packages should be resealed to prevent contamination and adsorption of water or other gases and vapors. The material in bag-in-box should be used within 12 months,while bag-in-steel drum should be used within 24 months.
Package of lithium & Sodium molecular sieve:
25kg & 125kg / steel drum. palletized with plastic film for lithium molecular sieve
Packaging & Shipping
1. Packaging Details:25KG net woven bag with inner plastic bag. 50KG net in Cardboard Drum. and other packing.You can also choose according to your requirements
2.Delivery Detail:We always provide sea transportation and air transportation.We can also provide according to your requirements.
3.Delivery time:Because of the nature of our products,we always delivery in 21 days.

Regeneration
To achieve good operating performance and long life as much as possible, after a certain period of time use must be regenerated .After correct molecular sieve regeneration , make it get the low attenuation of mechanical properties and adsorption
There are two basic approaches:
Temperature variation .
Generally used in the preheating gas heating, purge molecular sieve to about 200℃, and stripping down the adsorbate .
Variable pressure .
Usually used in the gas phase adsorption process.Maintain a constant temperature adsorbent and by reducing pressure and backing purge inert gas , to remove the adsorbate.
"Note:This is normal specification, in case of a particular application, application, please contact us by email at info@fznewmaterials.com for technical information."